Here is an interesting formula for making a protective Witch Bottle
Take a clean Brown or Blue bottle that has a cork to it, and mark on the bottle a six-sided white snowflake symbol. This symbol is known as the Witch's Foot, and is an ancient symbol of protection. I would recommend marking the witch's foot with a grease pencil or white paint. Then begin to roam about your home (and it must be you home) and begin to fill the bottle with buttons, needles, housedust, strings,etc. You want the bottle to be filled with the odds and ends of the home, its essence. Dust bunnies are great. Bits of string or fiber from the carpets and furniture, etc.
Only fill the bottle part way. Then return to your work space and mix equal parts of the following herbs;
Patchouli
Mullein
Rosemary
Thorns from a Rose bush
Vervain
Just a pinch will do. You can order this blend here (temporarily down while I move the site, please email if you would like to order. I will have it back up soon).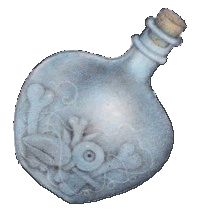 Place the mixed herbs into the bottle. Top off the bottle with your own urine or white vinegar. Then add 3 drops of your own blood. Use a lancet and be sure to clean your fingers first. The middle finger of the right hand is the ideal place for this spell, but if that won't work, be creative. If you absolutely can't do your blood for some reason, use a lock of your hair with spittle and sexual fluids on it.
Hold the open bottle up and invoke into the mouth;
"Callieach Looms and Nicnevens Sending,
Bring ye all ill Unseelie to an ending,
Bottle,Stone and Sacred Tree,
Be upon the Blood and Not my Bones!
Cast ye to the Earth and Not ye roam,
Cast ye to the Seas and Begone!
Free am I,and Safe as the Holy Stone!"
Speak with feeling and force. Repeat until you feel the power has entered the bottle. Cork it at the peak of energy. Seal the cork completely with red sealing wax. Then gently shake and roll the bottle in your hands to mix the ingredients and allow things to stir about.
That night, bury the bottle by your front door. Make sure it is far enough down that rain or animals won't unearth it. If you live in an apartment or other dwelling without a yard, put it at the bottom of a large planter, and put some flowers (real or fake) on top.
As you are putting the earth on top of the bottle, you make chant:
"Bind Rending, as the Cauldron Turns,
Trapped Sending, as the Oceans Churn,
Return Not or thy Presence to Burn,
Turnabout, Turnabout, Turnabout,
Bound will ye be..I cast ye out!"
Return to your work area after cleaning up, and burn a white candle and your favorite incense for filling you with good energy and happy thoughts. I recommend some Blessing Incense.
Within the coming week pay it forward, do a kind turn for someone, and share your new abundance. Think not of the bottle as you cross by it, just know that it is doing its job, tying up all the ill thoughts and maleficia sent your way.
Do not dig up the bottle for any reason. If you move, make a new one. If you feel it has filled up with bad energy and can not hold any more at the time, make a new one and bury it near but not touching the old one.